Dans une supercar telle que l'Audi R8, on s'intéresse bien évidemment plus à ses caractéristiques dynamiques: cylindrée, puissance, couple du moteur, accélérations... qu'à son intérieur.
Et à juste titre, puisque les intérieurs de ces supercars sont surtout destinés à être fonctionnels, bien finis, mais très peu innovants. Les possesseurs de ce genre de véhicules veulent que cet intérieur retranscrive les gênes sportives de l'auto, soit fonctionnel, et conçu pour maximiser le plaisir de conduire.


La photographie suivante présent le poste de conduite de la nouvelle Audi R8.
Tout est fait pour le conducteur: l'instrumentation est complètement dirigée vers lui, toutes les commandes sont rassemblées à portée de main. on note même une séparation entre le poste du conducteur et le siège du passager, délimitant l'espace entre le pilote et son inutile passager.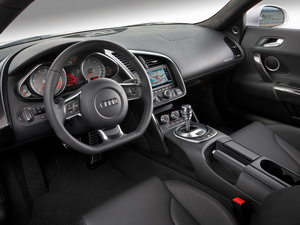 Click to enlarge
(droits Audi)
Le poste de conduite de cette Audi R8 est résolument sportif. Les couleurs de l'habitacle sont sombres, avec quelques touches de métal renforçant ce caractère sportif. L'instrumentation est claire et lisible. La technologie est également au rendez-vous, avec ce grand écran couleur au milieu de la console centrale.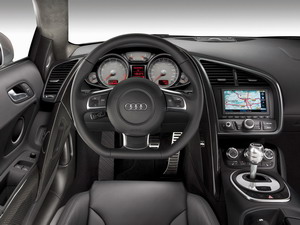 Click to enlarge
(droits Audi)
Voici une autre vue du poste de conduite de l'Audi R8. L'habitacle est très bien fini, comme dans toutes les Audi.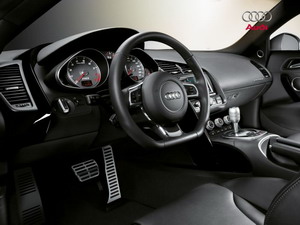 Click to enlarge
(droits Audi)
La photographie suivante est une vue agrandie du levier de vitesses de la nouvelle Audi R8.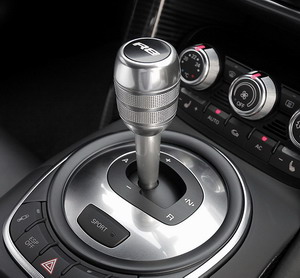 Click to enlarge
(droits Audi)